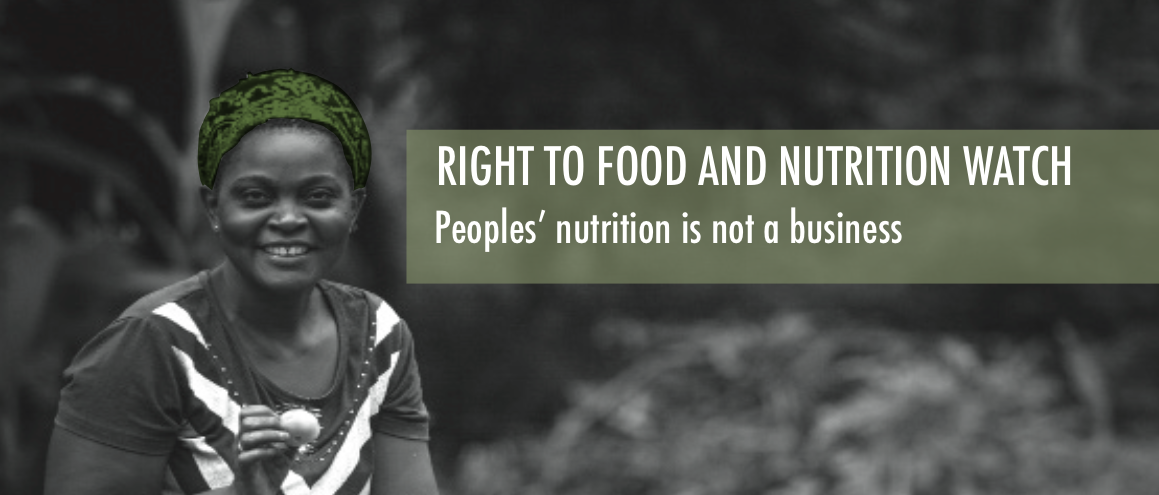 Welcome to the Norwegian launch of The Right to Food and Nutrition Watch –
Peoples' Nutrition is Not a Business.
Time: Tuesday 15 December, 11:45 – 15.30
Place: Norwegian Centre for Human Rights, Cort Adelersgate 30 / Seminar Room Asbjørn Eide
FIAN Norway and LEVE – Livelihood in Developing Countries (UiO) are very happy to invite you to a seminar on Tuesday 15 December at the Norwegian Centre for Human Rights, where we will be launching the annual publication The Right to Food and Nutrition Watch.  This year's
edition is entitled People's Nutrition is not a Business. It focuses upon the corporate capture of governance, and exposes the impact of business operations on peoples' livelihoods.
Prior to the launch we will provide a brief presentation of LEVE' research group Food, Human Rights and Corporations (FoHRC), and share with you some highlights from this year's UN Forum on Business and Human Rights.
Introduction by: Sidsel Roalkvam and Wenche Barth Eide, LEVE/FoHRC, University of Oslo.
Keynote Speaker: Flavio Valente, FIAN International, Heidelberg
Speakers and commentators include:
Liv Elin Torheim – National Nutrition Council
Asbjørn Eide – Norwegian Centre for Human Rights
Thomas Mosberg-Stangeby, Ministry of Foreign Affairs
The seminar is organized by: FIAN Norway, LEVE, and LEVE's research group FoHRC.
The event is open and free to everyone, but requires registration. Please register through this link.
For more information, please contact: marit.erdal(a)fian.no