Welcome to the seminar Investments and Land Rights –
the role of the private sector in ensuring responsible governance of tenure
Time: Monday 13 June, 09:00 – 15:30
Where: Norwegian Centre for Human Rights, Cort Adelersgate 30, Oslo
The registration deadline for this event was on 9 June. Please contact us if you missed the registration date, but are still interested in
attending the seminar.
---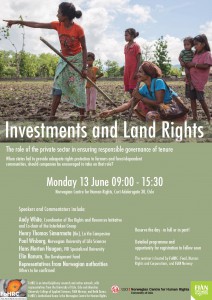 FIAN Norway and FoHRC – Food, Human Rights and Corporations are happy to invite you to a seminar on Monday 13 June at the Norwegian Centre for Human Rights, where we will be discussing investments and land rights. When states fail to provide adequate rights
protection to farmers and forest-dependent communities, should companies be encouraged to take on that role? And how do we ensure meaningful participation and consultation with local people affected by land acquisitions?
Keynote Speaker: Andy White, Coordinator of the Rights and Research Initiative and Co-chair of the Interlaken Group
Other speakers and commentators include:
Henry Thomas Simarmata, La Via Campesina
Frankie Abreau, Tenasserim River and Indigenous Peoples' Network (TRIP NET), Myanmar
Poul Wisborg, Norwegian University of Life Sciences
Hans Morten Haugen, VID Specialized University
Elin Cecile Ranum, The Development Fund
Eivind Fjeldstad, Norwegian-African Business Association (NABA)
Knut Olav Krohn Lakså, Section for Private Sector Development, Norad
Gunnvor Berge, Section for UN Policy, Norwegian Ministry of Foreign Affairs
The roaring food prices in 2008 led to an increase in agricultural investments worldwide. In states with weak protection mechanisms and unclear tenure arrangements, there are serious concerns on how this affects people's rights and the environment. Addressing such concerns, the Guidelines on the Responsible Governance of Tenure of Land, Fisheries and Forests (VGGT), adopted by the UN Committee on World Food Security in 2012, have been widely recognized as a major step towards a human rights based governance of natural resources.
One group working with the VGGT in relation to business is the Interlaken Group, which consists of large global companies, well-respected NGOs, as well as the International Finance Corporation and the UK's development cooperation agency DFID, among others.
The Interlaken Group has developed a toolkit – Respecting Land and Forest Rights: A Guide for Companies –  to help companies align their operations with the VGGT. It guides companies on how to approach tenure questions and map existing legitimate tenure claims, emphasising the need to make sure that communities' voices are heard, with special attention to indigenous peoples, women and the disadvantaged. However, concerns have been raised over how companies are encouraged to take a leading role in ensuring clarity on tenure questions, as supposedly neutral facilitators, when companies themselves often find themselves to be part in tenure conflicts.
The morning session will address the work of the Interlaken Group and the role of companies in implementing the VGGT.  The afternoon session will provide case studies on land acquisitions, with focus on the need to involve local people. Free, prior and informed consent – FPIC is a key concern in this regard.
Programme available here!
Join us for the whole day, or for the morning or afternoon session.
The seminar is open for everyone, but requires registration!
The registration deadline was on Thursday 9 June. Please contact Marit Erdal on marit.erdal(at)fian.no if you missed the deadline, but are interested in attending the seminar.

Link to our Facebook-event here!
FoHRC is an interdisciplinary research and action network, with representatives from the University of Oslo, Oslo and Akershus University of Applied Sciences, FIAN Norway, and Redd Barna. FoHRC's institutional home is the Norwegian Centre for Human Rights.